I came across this wonderful cartoon (by Tom Gauld) recently. It captures brilliantly what we think about when we see our bookshelves.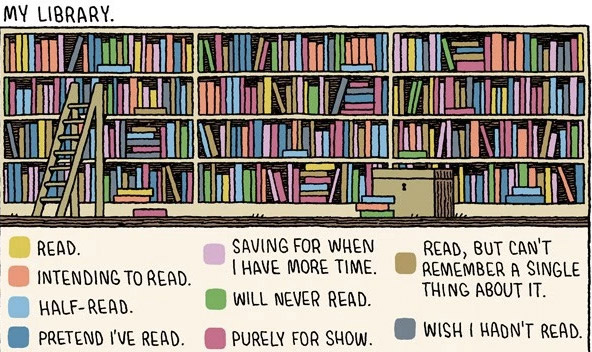 In the caption area, in the third column, against the ochre patch is the legend "Read, but I can't remember a single thing about it." Every frequent reader (If i may use the word frequent rather than the much abused voracious) would recognize this. In fact there are also occasions where you are not sure if you have read the book!
This happened to me far too often that I decided to do something about it. Starting sometime 2011, in a bid to remember what I had read, I started to capture highlights of non-fiction books which had a profound impact on me. These aren't necessarily books that make the FT Book of the Year or similar awards. Rather they are books that I have read and wanted to remember for posterity. I thought distilling the key messages from these books into a few pages would imprint the central ideas into my consciousness.
The list of books that I have summarized are an eclectic lot. They include a biography (The Everything Store), an autobiography (Let My People Go Surfing), many how-to books or hacks (The Power of Habit, What The Most Successful People Do Before Breakfast etc), explorations of industries or institutions (The Innovative University, College Disrupted) or best of all, books that don't easily fit into any one category (Zero to One, The Sports Gene etc).
I am delighted to share my summaries with you. They don't necessary have a uniform format, length or style as you get in services such as getabstract or blinkist, two popular summarizing services. In fact, I am not a fan of uniform formats. There are 300-pg books that can be reduced to 10 pages without losing much, while there are 200-pg books that may take 30 pages to be condensed. In that sense, uniform formats are the equivalent of a procrustean bed.
If you like the summaries, feel free to let me know by emailing me; and you could always consider buying me something from my Amazon wishlist!
Summary List
Software Development, Teamwork, Productivity
Confessions of the Pricing Man by Hermann Simon
Pricing, Micro-Economics, Strategy
Working Identity by Herminia Ibarra
Career change, Psychology, Self Help
How to Talk About Books You Haven't Read by Pierre Bayard
Literary Criticism, Philosophy, Reading
The Effective Executive by Peter Drucker
Productivity, Management, Self Help
Let My People Go Surfing by Yvon Chouinard
Autobiography, Patagonia, Green Business
What The Most Successful People Do At Breakfast? by Laura Vanderkam
The Everything Store by Brad Stone
Business, Biography, Amazon, Jeff Bezos
How Will You Measure Your Life? by Clayton Christensen, James Allworth & Karen Dillon
Playing to Win by Roger Martin & AG Lafley
The Innovative University by Clayton Christensen
Education, Technology, University
Essentialism by Greg McKeown
College Disrupted by Ryan Craig
Education, Technology, University
The Idea of India by Sunil Khilnani
Indian History, Political Science
The Sports Gene by David Epstein
Genetics, Sports, Biology
Zero to One by Peter Thiel
Philosophy, Startups, Business