I heard from a friend who is attending the present batch at ISB Mohali that they have all moved to campus. Classes had begun in May'20 but were online. So, this is the surprise; he tells me that classes are still online (at least for a bit). But they are all staying on campus now, and hence all the interactions are in person, socially distanced or not I dont know. He described it as the best of both worlds.
This isn't entirely new. ISB arrived at it by accident, but Minerva School, a new age university pioneered this model in '16. They had classes entirely online, but the students would room together. In a clever hack, the location moved from city to city every semester. One semester was in SF and the other was in Berlin and so on.
NewMBA
It seems to me that if one were to launch a new MBA school today, then the online classes + residential experience isn't a bad idea. Imagine a new age MBA school, launching by renting a near-empty apartment complex on the outskirts of our metros (and they are littered with these nearly final, but unoccupied apartment complexes) to house students and some administrators, and the classes being held online. The traditional club house, with some modifications could function as the commons etc. The location outside a metro would make it easy for interactions with recruiters, CEOs and corporate leaders etc.
Campus size / infra costs no longer become the rate limiting factor in student admission or scaling the program. It now becomes how many students you can place. If you can delink the promise of admissions from the program, then there is genuinely no serious restriction on the size of the program you can run. Now it is true that nowhere do any of the better-run MBA programs in India or abroad, explicitly promise placements. But given the high fees they are charging the promise is implicit.
What if you dropped that promise; and perhaps reduced the fees too? The burden of placement entirely shifts to students. But then you have a program that is relatively inexpensive and a location next to a metro that allows for internships or hybrid remote + on-premise assignments, and easier exposure to corporate leaders + recruiters.
If this works, then the program can theoretically run 300-400 student mini campuses across 5-7 metros all studying online. Unbundling the physical campus, and the promise of placement removes two of the key limiting factors in scaling. What you have is the signal (of being selected into a premium program) + experience + networking + learning (the last hopefully). Experience matters – people want to meet, flirt and become friends or more.
What if we unbundle learning itself from this bundle? So what we are left then with is effectively communal living – young or not so young, mostly single, men and women living together. And I am wondering if that could be something young men and women, graduating from the undergrad or post-graduate institutions and relocating to a city for their first job, will pay for?
WeLive / Nestaway
Yes, this is akin to a WeLive, the residential business that WeWork was planning, or even a Nestaway or CoHo. But I suggest that unlike WeLive or CoHo, the startup offering these should curate the community – like how a selective college or MBA program does. After all, when we are 'buying' the premium college experience, we are also buying the curation and the signal of selectivity + curation that goes with it.
Offering the living experience without the curation / some kind of selectivity would mean a rental business, like Nestaway. The price that residents will pay here will be a small markup on rentals + services. On the other hand a curation + experiences business can become a brand commanding higher ticket sizes.
So, this WeLive with a twist will ideally be an asset-lite operation, where the startup can reach out to builders whose apartment complexes are lying relatively empty and long lease them, doing them up a bit, and operating them as communal living communities.
I wouldn't ever doubt that demand could be an issue given the challenges single men and women face in renting in our cities; most apartment complexes and societies are vocal about not allowing single men and women staying, typically because they throw noisy parties. Or maybe it is jealousy:)
Below are some examples of discrimination that singles face while renting.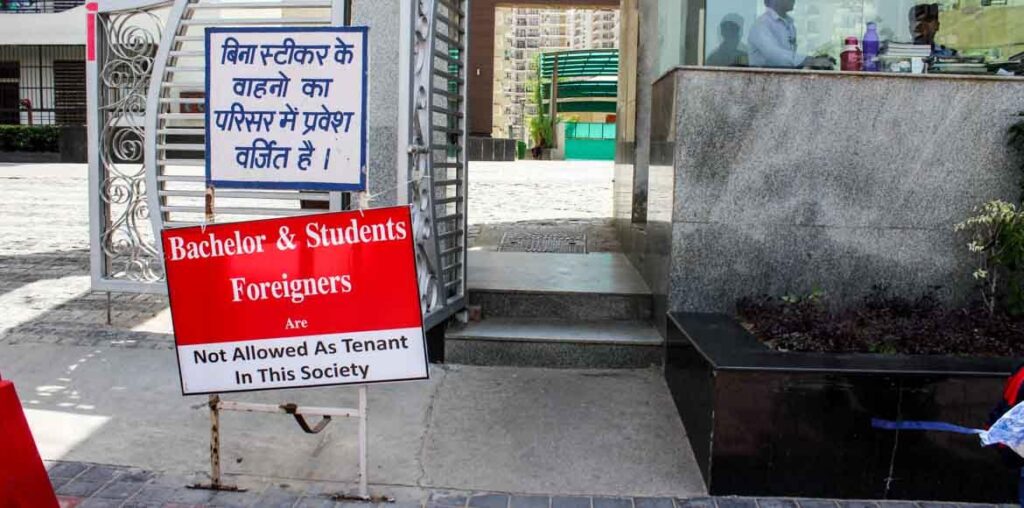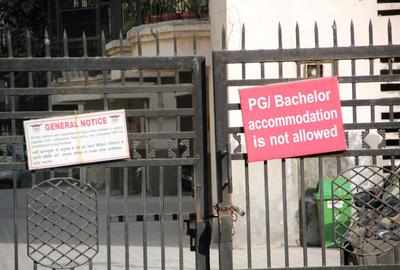 And this. Just in case your girlfriend or boyfriend wanted to stay overnight.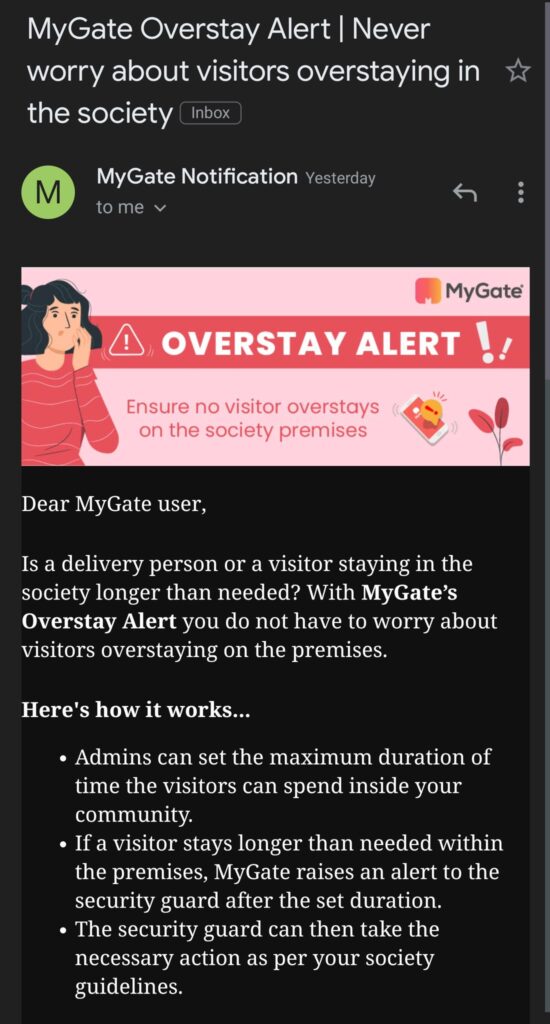 Effectively what such a startup is providing is Bandra in a box, or Indiranagar in a box after the two vibrant urban districts of Mumbai and Bangalore that are singles-friendly; curating a vibrant residential (but curated) community of young people and offering related services and conveniences. 
We started from a forced experiment / arrangement in an MBA campus, and unbundled and unbundled finally to get to Bandra in a box.