I attended a virtual edtech summit recently; an online version of a global summit that happens in the U.S. this time every year, but had to be cancelled due to COVID-19.
One of the panels had edtech 'startup' founders and CXOs. Of course, these were all well-funded global startups. And they were having the best growth periods of their existence.
The CEO of Proctorio, an online proctoring firm was at 6x volume (online exams proctored) this month over the same period last year. 
The product head at Turnitin, an anti-plagiarism software co, was seeing 3-4x the number of people in their regular onboarding webinars
The CEO of Coursera saw 4x enrollments in March as universities scrambled to use Coursera for campus to get their students online.
Screengrab below from Coursera CEO Jeff Maggioncalda's talk during the ASU GSV Virtual Summit, 1 Apr 2020.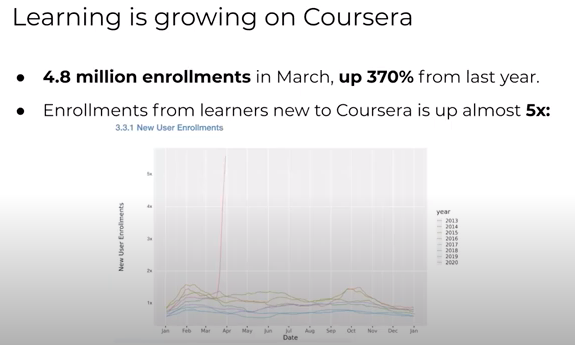 Years gained
The moderator, Rob Hutter of Learn Capital, an edtech-focused VC firm, then did something interesting. He asked them to define the impact on their businesses not in terms of growth but in terms of years gained, thanks to COVID. When were they projecting to reach these numbers, or when would they have expected some of the customers who signed up now, to have originally approached them?
Most of them answered that they had gained about 3-5 yrs thanks to COVID. The lockdown, and closure of colleges and schools had accelerated the move to online, a kind of forcing function that otherwise wouldn't have spurred digital adoption. A telling anecdote was the Turnitin CPO sharing how the AP exam was finally going digital from the previous entirely analog paper based exam which it stuck to because of inertia. If it hadnt been for COVID's forcing function, they would have stuck to it this year too.
It isn't just the U.S. In India too, edtech is on a tear. The metrics of the edtech companies in our portfolio range anywhere from 2x to 5x.
Reverse forcing functions
However, forcing functions work the other way too. COVID's forcing function is crippling the newspaper industry, be it abroad or in India. 
Due to fears that the virus could spread, many households in India are pausing subscriptions. Households which want it are not able to get it because newspaper vendors have stopped distributing it (due to fears of catching the virus) or are not able to get it delivered as vendors have temporarily migrated back to their villages. Due to the reduced distribtion, and the lower economic tempo, ads have dropped precipitiously
My friends in the Times Group, India's leading print publisher tell me that ad revenue, which is usually 90% of the overall revenue is less than a crore now. I remember when I left it to join Blume, it was around 12-15crs. 
If COVID saw edtech gaining 3-5 years, then for the newspaper industry it is 3-5 yrs (or more) lost. That is 5+ years of profit that some were looking to eke out. After all, even dinosaur media has a long half-life. And when you know the industry you are in is declining, you can focus on squeezing margins out of the value chain by cutting acquisition costs, reducing investments of any kind and steadily increasing prices (provided you have pricing power). This is the script that tobacco and newspapers followed. Both have got sharply impacted by COVID.
Conclusion
This framework of forcing functions and years gained or lost thanks to it, came up again in a podcast that I listened to recently.
Patrick O'Shaughnessy hosts the 'Invest Like the Best' podcast, a fairly popular investing podcast. He had Gavin Baker, the founder & Chief Investment Officer of Atreides Management, a growth PE investor focused on tech and consumer plays as a guest. Gavin shared how COVID's forcing function helps large omnichannel retailers such as Walmart, Target, Costco accelerate their ecommerce learning curves.
In his words: "What I am beginning to think about is that these omni-channel retailers like Walmart, Target, Costco, maybe even Kroger are going to be the biggest beneficiaries of this. They're going all in on e-commerce…they are building years of e-commerce experience / muscle / knowhow in months. I'm sure they're going to do 12 to 18 months of e-commerce capex in months, if not in quarters. "
Highlights of the podcast, captured by me, and certainly worth a read are here.