What I found interesting in the world of higher education last week, with some added thoughts and views. I work for the Times of India Group, where I am presently kickstarting our university venture. All views are personal.
The decline of 'convent-educated'
Until the late '90s / early '00s, missionary-run or convent schools were typically the most coveted schools for admissions. Mumbai had its Cathedral, Delhi its St Columba's and Bangalore its Bishop Cotton.
In fact such was the dominance of the convent system, that the word "convent-educated" was used as shorthand in matrimonial ads to describe an English-speaking cosmopolitan girl.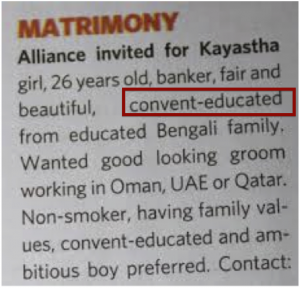 In the last few years, they have lost their spot on the pecking order to 'International' Schools. Now Mumbai has Dhirubhai Ambani School, Delhi has Vasant Valley and Bangalore the Mallya Aditi School.
The obvious reasons –
1) the new schools clearly have better infrastructure, be it facilities or faculty, whereas the older, missionary schools have been unable to upgrade theirs
2) the IB or IGCSE board that they follow is evidently better pedagogy than ICSE / CBSE boards that the missionary schools follow.
In addition I do think there are a few other subtler reasons as well. One is the extent of migration that has happened in Indian cities, especially Bangalore and Delhi. Typically this migration has been into the suburbs – that it where the IT / BPO jobs are. As a result of this, you have a lot of parents who are bringing in entirely new cultural baggage / memories. They do not know the established pecking order of schools – they are happy to look at a school in the neighbourhood that follows the right board and has good infrastructure. Additionally even if they wished to send their kids to the older, established schools the fact that most of these older schools are located in the centre of the city, well away from the IT Hubs where they stay is a significant handicap.
Interestingly, there are parallels of this in other industries as well. Newspapers, especially the older established ones have seen a decline as cosmopolitanism of a city has increased. Witness the Times of India displacing Deccan Herald in Bangalore and Hindustan Times in New Delhi (now NCR). 
News
The British Plumber now has company. The Texan Welder, making upwards of $7,000 a week. A look at vocational training for high-income blue-collar professions in USA. 
***
Two Wharton Professors look at how MOOCs could impact MBA Programs. The report is worth a read. tl;dr MOOCs are valuable because they have introduced a key innovation in pedagogy / learning technique – self-paced learning of a complex concept, divided into chunks, with adaptive testing / feedback built in – they call this SuperText. Thanks to SuperText, B-Schools could innovate in 3 directions which they call Pathways.
Pathway 1 is the ability to offer low-cost exec ed program delivered as a MOOC, priced at $300-400 instead of $3-4,000 but bringing in more revenue than the traditional exec ed program as it serves more students.
Pathway 2 is to offer the regular MBA Program with fewer faculty (alluded to in my last post! )
Pathway 3 is to structure the MBA as an on-demand offering – instead of learning strategy in my 2nd yr MBA and then deploying it 7 years later when I head the Strategy Office, I take the course just before I apply to a post on my internal company job board – the iTunes MBA they call it.
*** 
How design firm IDEO conceived and structured Peru's Innova Schools. It is a look at how a low-cost school system was created from the ground up, and also an example of how design firms are impinging on the spaces once occupied by strategy consultants such as Parthenon, Accenture.
***
Harvey Mudd, a tiny private engineering college in LA is USA's most expensive college at $64,500 annual fees. It is also ranked #1 for return on college investment (College ROI Report )
*** 
Ashoka moves to a 3-year degree program following the UGC-DU fracas (see here http://bit.ly/1q7bw8b FYUP controversy). This is not good news for Indian students or for universities looking to deliver innovative programmes.
*** 
CornellTech's Roosevelt Island campus will be the 1st major US Uni without a data centre, and offices (cabins) for its faculty members. 
***
The 7 oldest IITs and IIS have come together to set up India's first online tech university. On offer is an online degree. This is born out of their collaboration over NPTEL. Not too sure it will succeed, if NPTEL is anything to go by.
*** 
The outlook for software engineers isn't looking so good.
The Economic Times piles on as well. 
*** 
A look at how new-age campuses in India are swanking it up. Underlying this trend is a simple story of Economics. 5,000 students willing to pay 1lac+ annually is 50crs ($8.3m) every year. Margins are at approx 40-50%. So what's not to love?
Attracted by the opportunity, the Manipal Group had announced plans to launch a chain of branded youth hostels called YoHo (Youth Hostels). It is presently an inhouse brand serving their Jaipur, Bangalore and Manipal campuses. Eventually they plan to tie-up with other universities as well.  USA has had similar players for a while – some prominent ones include American Campus Communities, Campus Crest and Education Realty Trust.
Meanwhile, The US is not going to get left behind. Here is an article about University of Utah's hi-tech dorm, complete with 3-D printers, foosball tables etc
Misc
Satya Nadella's sermon to Microsofties gets some tough love. Click here for a masterclass in writing lean.