In a previous post A Listing of EdTech Investment Themes I laid out EdTech investment themes into three buckets
Lifelong education
Unbundling of the university
Rethinking existing education business models in light of tech and mobile
In the post, I had shared that I would go into greater detail on bucket #3 in a future post, as to which of the various business models and processes could be rethought, and possibly list as many as possible. This is that post.
We may visualize all edtech processes along the following continuum.

Input (admission including marketing, assessment, selection etc)
↓
Delivery of education (entire learning experience including materials, classroom, teaching etc)
↓
Output (internships, placement, jobs and all aspects of corporate interaction)
Each of the above processes and sub-processes have evolved in a certain context including level of technology, dynamics in the marketplace etc. Let us take one of these, say the Input process, and specifically within that Marketing, and look at how it could be rethought.
Rethinking Marketing + Admissions in light of tech / mobile
Presently most universities sell themselves to students through marketing efforts – ads in online and mass media, direct mailers, outreach efforts in schools etc. All of these are push efforts and largely one to many (direct mailers may or may not be an exception depending upon the customization of the message in the packet), and do not take into account the rise of technology that allows students and colleges to directly connect with each other.
Secondly all of these admission efforts are concentrated into a particular time window. In India, almost 90% of Tier 1 school admissions are determined by a performance on a single test (JEE Advanced), and given this the entire Engg admissions process is held hostage to this. Admissions to most Tier 1 and Tier 2 schools are done in a 2-3 week period from the declaration of the JEE Advanced results, resulting in a period of high tension, anxiety and confusion. In U.S. and other developed countries, the process is somewhat more stretched but really the process is all down to a few months in the last year of the high school.
Let us now look at a few of the ways in which edtech startups have rethought the Marketing + Admission process
Raise.me is an edtech startup that allows a U.S. college to pay low-income category students for their scholastic achievements (as per college's scholarship criteria) while they are in high school. The sums are banked but not distributed – the catch is that the students get this money only once they join college (essentially this is money that goes towards college fees). They presently have about 76 colleges on board. Essentially Raise.me is also helping colleges identify promising talent early, helping these colleges reduce their marketing efforts.
Another startup Admitted.ly provides free tools to students who do not have access to college counsellors at their schools, thereby providing a level-playing field. It has tools to start tracking students from freshman year of high school (9th class) and get students on the path to getting to their dream college. While right now, it is a student-oriented service, nothing stops Admitted.ly from opening their platform to colleges, once enough student critical mass is achieved.
There are many others as well. This angellist page gives you an idea of the number of startups that are rethinking college admissions. All of this data is U.S. data. Innovation in this space (admissions marketing) is as yet uncommon in India. However when it comes to test prep, we have seen well-funded players such as Toppr, VedantU emerge in India.
There are also other ideas that could emerge. I highlight two, though there are several, several more. Colleges could leverage MOOC platforms such as edX and Coursera to offer MOOCs for high schoolers, to identify promising high-schoolers across the world. An analytics firm could parse scholarship and competition result sites for high-schoolers to crunch numbers and identify a list of promising high-schoolers that it could sell to universities.
Common investing themes at the Input stage
What is common to the above and to the investing plays across Admissions, Selections and Marketing is
Tech connecting students to colleges directly
Tech providing colleges and students, data and tools that was not possible before, or was very expensive (only available to those with funds or connections) that levels the playing field
I would also contend that in the future we are likely to see a 3rd theme – the emergence of trusted third party services, especially assessments – imagine a kind of parallel SAT which is continual (and not at one point). ASSET by Educational Initiatives, an under the radar operator in Ahmedabad (but funded by U.S. VC Novak Biddle) is a possibility in the Indian market.
Let us now roll this structure out across Delivery and Output as well.
A structured approach to listing investing themes across Input, Delivery and Output stages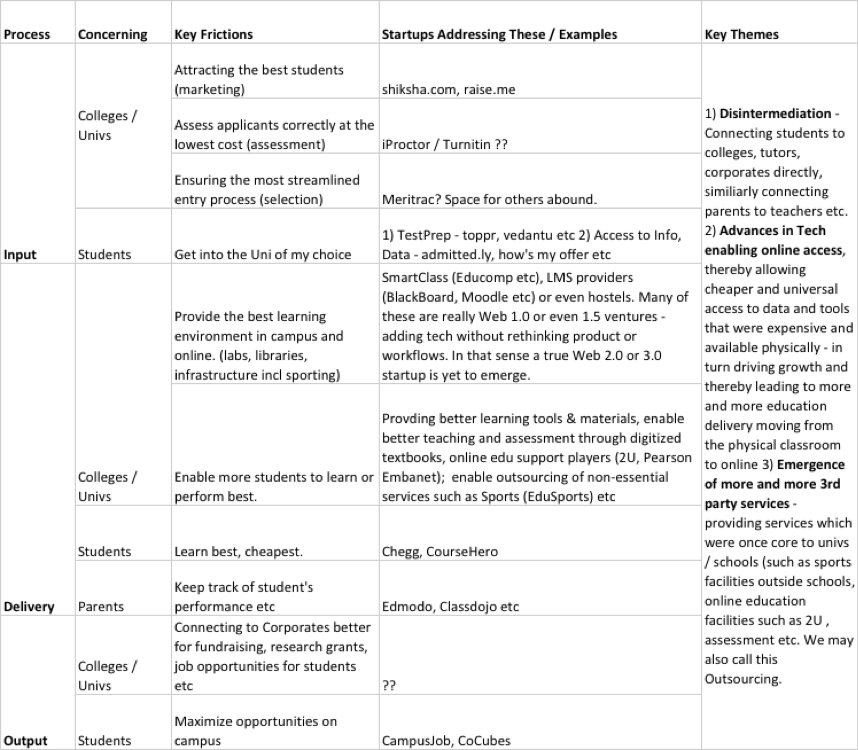 Given the above, we can classify an investment idea by asking the following queries
1) Is it in the Input, Delivery or Output stage?
2) What specific friction is it addressing?
3) Is it thus a disintermediation, online access or 3rd party play?
Let us explore how this works in real life. The last funding announcement in Indian EdTech space was this.  Let us take the first company, Report Bee, which is in the smart report card phase. It is thus helping parents (and others) keep track of their kid's performance. It has some interesting wow features – one is the infographics, the second is the comparison it enables with other students across the state or school network. And it is essentially playing the 3rd theme, (though there are elements of the 2nd theme – physical to online) the report card which was once specific to the school is becoming a smart report card (digital, able to link to state-level benchmarks, provide progress report over time etc), provided by a 3rd party.