Of these 28 books that I read in 2015, three-fourths were non-fiction. The average page-length was 377 pages. Over a third of these were books written in 2015, and all but two were written in the last 7 years.
I know all this, because I have been keeping tracking of the books that I read, rather obsessively for over a decade now. Every year, at the beginning of the year, I set a target. 2015's target was 36 books, of which at least a third was to be fiction. Sadly I fell short on both counts, finishing at 28 (vs 36) for the overall count and 7 (vs 12) for fiction. Still 28 isn't bad. So what did I read?
Here are the books that I read in 2015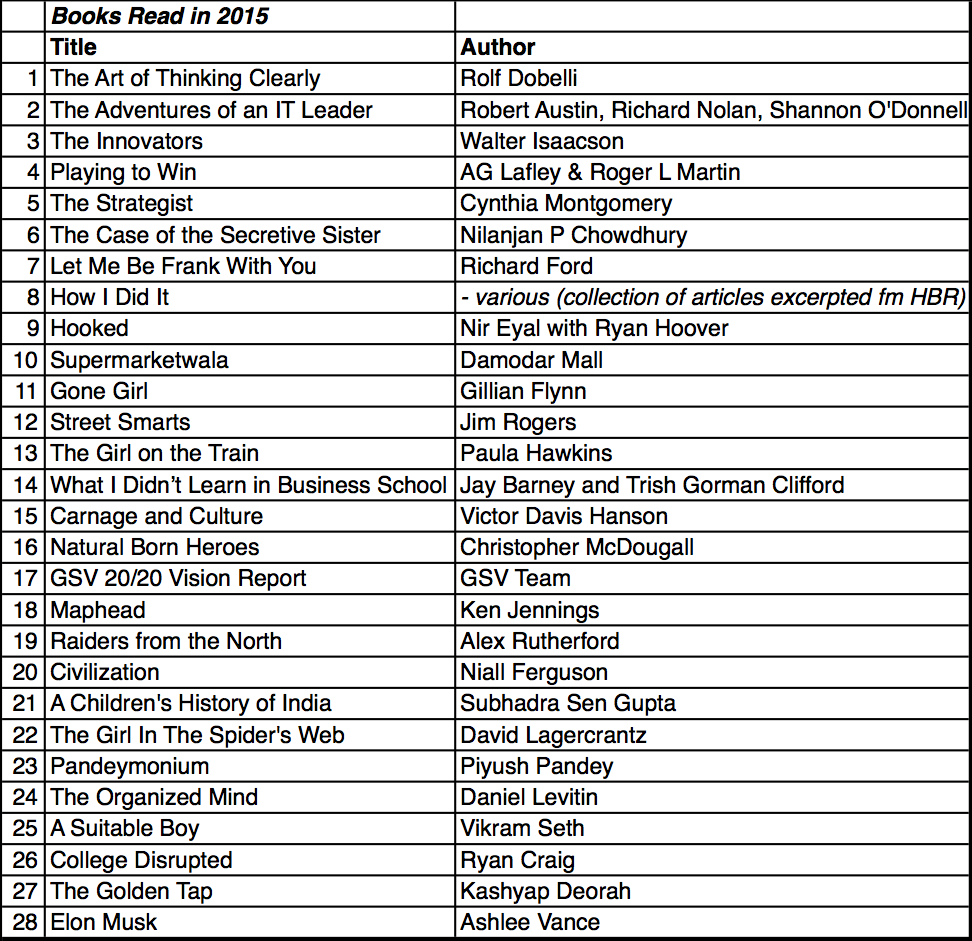 The most enjoyable out of the above was Vikram Seth's masterful A Suitable Boy, a novel of manners set in 1950s India. It was also the longest at 1,545 pages! Believe me, I could have carried on even if there was another 500 pages!
In fiction, apart from the above, I also enjoyed Paula Hawkins' crime thiller The Girl on the Train.
The most informative was neuroscientist Daniel Levitin's The Organized Mind – a look at the challenges of remaining undistracted in an age of information glut. The book is a look at the brain and its workings, an exploration of various productivity hacks and thinking tools. It is Lifehacker meets Oliver Sacks.
The best business book I read this year was Playing to Win – a primer on strategy by Roger Martin & AG Lafley. Through a 5-step or rather a 5-question process, it details a framework by which you can approach strategy-making at any organization.
Other interesting reads included
Shorter reads
This year, I also tracked blogposts / longform reads. I do think on pure volume basis, I probably read more of these than books. Much of it was ephemera; mere superficiality. Still there is the occasional article that packs a punch, and possibly offers more insight than many books do. Here is a listing.
Kathryn Schultz's The really big one on the coming earthquake in Northwest USA.
Benedict Evans' posts – almost all of them hugely insightful, backed by masterly analysis, and cogent arguments – helped lay bare the machinations behind the mobile economy. These 5 are really good
Maciej Ceglowski's trenchant critiques of adtech of which the best were
Graeme Wood on What ISIS really wants
Rob Rhinehart (who founded Soylent, the meal-replacement co) had an uber-nerdy piece on how he reformatted his lifestyle to live off the power grid – How I gave up alternating current. His piece How I simplified my phone is a great read too.
2016
This is going to be a busy year for me, as Bennett University launches this year. So the focus is on fewer but better books (24 is the target, 2 a month), and strive towards more fiction books (at least a third).
I also plan to read fewer pure business books, especially how-to works. Most of these have 1-2 central ideas – to access these ideas you end up reading 250-300 pages of bloat. It is far better to access these ideas through articles in HBR by their authors (which effectively summarize the ideas) or even interviews with these writers, than invest half a month into reading them.
Business biographies or histories such as Elon Musk by Ashlee Vance, or The Innovators by Walter Isaacson are an exception to the above rule. In addition to these business histories of which I have a few lined up, I do plan to read a lot more of history (or rather megahistories), science / tech and legal books this year.
Enough writing then. The first book of 2016 awaits me now. Given that one of my goals this year is to learn to code, it is a book called The First 20 Hours, and is a productivity hack focussed on how we can pick up complex skills (such as programming to which it devotes a large chapter) fast. I can't wait to begin. 2016 is going to be an exciting year!