Long radio silence there. My apologies for those who checked out the site and didn't find it updated. I am blaming a holiday, a relentlessly crowded work schedule and attention to a couple of exciting personal projects for the lack of posts (No, I wasn't feeling lazy, really! ;-).
***
Frequent readers may recall that I started my blogging journey citing my fascination for the digital transformation underway in the newspaper industry. And if there is a company that epitomizes this transformation, it is Norway's Schibsted. Its success in transforming itself from a successful Scandinavian newspaper company into a European digital powerhouse avoiding much of the troubles plaguing its peers, has been quoted ad nauseam in case studies, spoken of innumerable times in media conferences, and profiled endlessly in business publications.
In this post, I wont repeat any of that. A simple google search will point you to numerous articles on Schibsted, though I would recommend these two articles in particular, by Ken Doctor and Frederic Filoux for their analysis and perspective. What I will do instead is to look ahead to the future. Has the success of Schibsted spurred other newspaper and media groups to adopt similar approaches to success – invest / acquire a portfolio of digital media businesses and online services that offsets the revenue declines in their core print businesses?
The answer is an unequivocal yes. There are a clutch of companies now following in Schibsted's footsteps – Switzerland's Ringier and Tamedia, Germany's Hubert Burda Media, Axel Springer and Finland's Sanoma are smartly transforming themselves from print players to predominantly digital players through clever investments in online startups, not all of which are media related. (Germany's Axel Springer has even launched its own accelerator taking advantage of Berlin's startup atmosphere). 
In this post, I would like to focus on Ringier, a rather less-known and uncelebrated Swiss media firm (see here for coverage on Burda and here and also here for Sanoma). I do think of all these firms, Ringier is the one least afraid to push the boundaries. They entered China in '87 and are now looking to invest in mobile startups in Africa. They not only have investments in media-related digital startups, but also in companies such as Qualipet, a pet-accessories and foods portal. Let us take a closer look at the US$ 1.2b large (approx revenue for calendar 2012) Ringier.
Ringier 
I first came across Ringier in 2005, which had a publishing alliance with Infomedia, a small publishing co that had about a dozen B2B titles. I had just joined Infomedia  (now only a rump company consisting of its printing operations; the story of its decline is worthy of a Harvard Case Study!) and during a meeting with the then CEO, Prakash Iyer, I found an ancient looking Russian manual lying in his office (see below).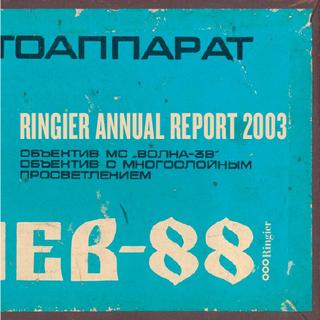 Intrigued, I picked it up, and I found it was Ringier's 2003 Annual Report. I now learn it was designed to look like a users manual of Kiev88 , a soviet camera; it is worth noting that every one of Ringier's Annual Reports (which they publish even though they area family-owned firm) are distinctive works of art, designed by a different leading artist every year. The 2011 Annual Report is designed to look like a roll of toilet paper!
Let us take a closer look at Ringier. 
Ringier began as a printing venture in 1833. While the company did try its hand at publishing through a local weekly which was eventually scuppered, its publishing business took off only in the early 1900s with the acquisition of a daily Schweizerische Allgemeine Volkszeitung (SAVZ) and the launch of Schweizerische Illustrierte Zeitung (SI) – a magazine that was a forerunner of Life, and possibly invented the Photojournalism genre. SI continues still, over a century old, and is one of Ringier's more profitable publishing brands.
An HBS case study (warning, not free!) describes some fascinating innovations in regards to the above titles. SAVZ, the daily, grabbed readers through innovations such as bundling newspaper subscriptions with accident insurance, while SI crowd-sourced then rare photos from its readers.
With the launch and success of Blick, Switzerland's 1st tabloid, and later Sonntagsblick, "a family-oriented Sunday paper", Ringier consolidated its grip on the Swiss market and became the leading local publisher. In spite of its success in its home market, the Group was keen to look at tapping emerging markets. In 1987, they entered China in a (Printing) JV with Times Publishing Co of Singapore, and in 1990 entered Eastern Europe. In 2010, both Ringier and Axel Springer would pool their exis­t­ing busi­ness in the Czech Re­public, Po­land, Serbia and Slovakia to create a 50-50 JV co called Ringi­er Axel Springer Me­dia AG, focusing on Central Europe. In addition to these markets the Group also has a formal presence in Hungary, Romania and Vietnam. Altogether, across these markets, the Group publishes 11 newspapers and 95 magazines (including 32 B2B titles).
These 100+ print titles, their online extensions and the commercial printing business constitutes the Core Business as it is termed at Ringier. Since 2008, the Core has been supplemented with investments to build and acquire assets in the Digital (classifieds, online marketplaces, e-commerce) and Entertainment (events, ticketing, radio, television) verticals.
The following is how they depict the structure internally.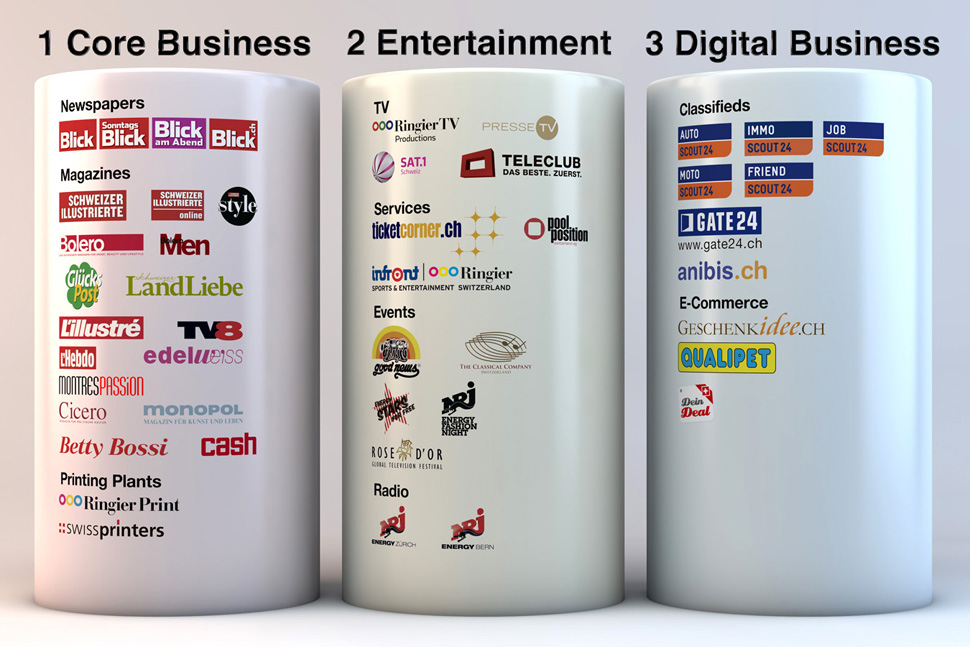 The Core Business still accounts for over 80% of Ringier's US$1.2b revenue with over 70% of that coming from its German language titles. The focus here has been on expanding digital presence including mobile apps, and streamlining costs. The common newsroom initiative where they integrated the news operations of the four Blick brands – Blick, Sonntagsblick, the freesheet Blick Am Abend and the online site blick.ch typifies the focus on this front.
The Digital and Entertainment businesses is clearly where the action is. In these spheres, the view is to invest or acquire businesses not so much as to build them. In 2012 alone, Ringier acquired
Poland's biggest online co onet.pl (along with Axel Springer)
Switzerland's biggest job portal jobs.ch (along with Tamedia, its competitor)
A majority in ejobs.ro, Romania's leading jobs portal.

 
The investment in jobs.ch complements its ownership in Scout24 Group (which dominates the Swiss online auto and real estate marketplace). A related area where Ringier is building marketshare is ecommerce (pet accessories, daily deals, gift shops). However it is Ringier's investments in African startups that is really intriguing. Its most prominent investment was in rupu (a Kenyan deals website listed in Forbes Africa Top 20 Tech Startups); building on the learnings from rupu, it has now extended the model to Ghana where it launched a similar platform under the brand tisu.
A presentation that I found online announces its goal to be one of Africa's top three digital players by 2015 and reach revenues of $50M on an EBITDA margin of 30% in 2020. The same presentation has a comment from its CEO Marc Walder where he states "Ringier is not expecting significant growth out of Switzerland anymore. It's not expecting it's majority of growth coming from Eastern Europe or Asia. Ringier expects the majority of its growth coming from Africa."
Lastly, the Entertainment businesses – this is an eclectic portfolio of services and events – there is a ticketing business, a representation agency, a concert management agency etc. The objective behind investing in these and other related businesses seems to be two-fold : 1) set up revenue streams that are not advertising-linked 2) build on the synergies between its newspaper + magazine lifestyle / events coverage and the events themselves without any editorial breaches. The HBS case study which I had referred to earlier dwells in detail on the considerable scope for editorial conflicts this can engender, and also details instances of supposed breach. All I can say is that India isn't the only market where there is potential for revenue pressures to seep into the editorial side. 
For 2012, the Digital and Entertainment ventures are at 18% of revenues (up from 13% in '11) and is expected to reach 25% of overall revenues for 2013. In comparison Schibsted's equivalent digital business (online classifieds) is at 25% of its overall US$2.7b revenues, though at a far higher absolute amount ($660m vs Ringier's $215). Scroll below to see a table comparing leading European newspaper publishers who I have spoken about in this post.
But now, you may wish to ask why I pick Ringier as the next Schibsted? Why not Tamedia? Why not Burda when it is already earning half its revenues through digital? Or you may ask that this post is irrelevant given the emergence of Axel Springer as the leading digital media player in Europe. All valid questions, and yes, it is true that the success of the Schibsted model has opened the eyes of the larger European newspaper groups to the opportunity to enter the online classifieds and marketplaces verticals. But before I get to answer your queries around why Schibsted, let me ask how come European newspapers have been able to make more of a mark than US companies in the online classifieds space? How is it that there are at least half a dozen companies that have significant classifieds businesses when there aren't any major US ones? 
The answers lie in the following.
(1) There are multiple language markets in Europe and that helped each group stake its presence in its home markets. They could see what was happening in the US or in another country and could use the learning in their home market. In the US however where there is essentially one language, once a player entered the classified market, it was closed for others (there is a huge advantage to being the first mover in Classifieds).
(2)  The lower dependence of European newspaper groups on advertising and classifieds has helped them cannibalize their print revenues with impunity (unlike in the US markets where each publisher has over 80% of revenues coming from advertising, and cannibalizing is therefore a harder decision to arrive at). There is a wonderful line in an article by the Ringier CEO Marc Walder in an article that he wrote – "While in the print business, Ringier never managed to make its mark in the classifieds market. Today it is a major player in the digital world." This one line captures it all. With lower stakes in classified revenues unlike their US counterparts, European publishers could move in to digital early without worrying too much about cannibalization. 
And by the way it is not entirely true that there are no US players who have been able to do anything significant in the classifieds market. Careerbuilder and Classified Ventures are clearly counter examples, but yes, these arose thanks to newspaper groups coming together (a rare phenomenon!) and being able to pool together listings and thereby overtaking / posing a competitive threat to an existing player.
Back to our query then. Why Ringier and not any of the others.  Well, 3 reasons,
1)   Online Classifieds – Dominance in online classifieds is what distinuguishes the Schibsted model, and on this front we will have to disqualify Sanoma, Burda and Tamedia given their weak presence in Online Classifieds. Burda is essentially an e-commerce player (Its website zooplus alone brings in about 10% of Burda's revenues) and Tamedia while it does have a stake in jobs.ch (along with Ringier), it hasn't expanded into online classifieds with the intensity of Ringier. In some ways it can be explained by the higher profitability of their newspaper business. In that sense they have less of an incentive to kick digital ass.
2)   Willingness to take risks and explore the unknown – Ringier's Africa foray is a perfect example of this. When Schibsted forayed into the Online Classifieds in 2000, there were no known models to go by. In some senses Ringier's Africa venture resembles that, a pioneer effort.
3)   Lower margins in the newspaper business – a look at the table below reveals that Ringier has the lowest EBITDA margins. As I said earlier, and I risk repeating, it is thus forced to innovate and enter the online business aggressively, unlike a Tamedia which still sees decent returns from the newspaper business.
What do you think? Would be curious to hear from you on my reasoning. Let me know if I have missed out anything or go anything wrong. 
A comparison of the newspaper groups mentioned in this post
All financial figures in US$
Ringier
Schibsted
Hubert Burda
Sanoma
Tamedia
Axel Springer
Revenue

1,197

2,684

3,193

3,089

1,157

4,303

EBITDA

9%

14%

n/a

10%

19%

19%

Notable Media Brands
Blick, SI
Aftenposten, VG
Chip
Helsingin Sanomat
20 minuten, Tages-Anzeiger
Bild, Die Welt
Digital Rev

215

663

1,508

309

163

1,601

Share of Digital

18%

25%

47%

10%

14%

37%

Employees

7,923

7,800

9,241

10,376

3,471

13,651

Notable Digital Holdings + Investments
scout24, jobs.ch etc
blocket.se, leboncoin.fr, finn.no etc
xing, zooplus etc
fosbury, virtuagym
jobs.ch, search.ch, FashionFriends
seLoger, TotalJobs, immweb
Ringier Digital its investment arm does strategic investments and also builds out businesses – more than 30 investments incl 10+ in Africa alone.
Schibsted Vekst its Norwegian investment arm (3 companies incl lendo) and Schibsted Tillvaxtmedier, its swedish investment arm (20+ companies incl hitta the search engine) invest in marketplaces and digital startups.
DLD Ventures is its ventures arm, with stakes in numerous businesses (some reports say 50+) including VC Fund loolventures, ubermedia, sevenload etc
Sanoma Ventures, its investment arm has stake in about 9 companies presently (has exited 2)
Tamedia Digital comprises all commercial online activities of the company such as the directory and service portal search.ch, the job platforms of jobs.ch Holding AG, the vehicle marketplace car4you.ch, the real estate portal homegate.ch, the small classifieds platform piazza.ch, the fashion portal fashionfriends.ch as well as the company's interests in sites such as jobsuchmaschine.ch, olmero.ch, renovero.ch and zattoo.ch.
Axel Springer has built up a portfolio of leading online classified portals, focused primarily on real estate and job listings. SeLoger, immonet, and StepStone Totaljobs, allesklar.com, and Immoweb.be, are its most important classified portals . Along with this it also has zonax, a performance marketing group.
Media Portfolio
Newspapers

11

18

16

19

39

Magazines

95

311

326

16

162

TV

15

Radio

7