On July 30, 2011 the Captain of the visiting English cricket team, Michael Vaughan set off a firestorm when he tweeted
Has Vaseline on the outside edge saved the day for Laxman???

— Michael Vaughan (@MichaelVaughan) July 30, 2011
Vaughan was implying that Indian batsman VVS Laxman had applied Vaseline to the edge of his bat, in order to mislead the Hot Spot infra-red imaging system, used to determine faint edges. The tweet set off a predictable mini-controversy as Indians (and the rather thin-skinned Indian Press) leapt to Laxman's defence. Vaughan was gracious enough to acknowledge his error and he responded to the criticism with this tweet.
Friends from India.. I didn't accuse VVS of using Vaseline.. And even if Batsman do its not cheating..know rules saying you can't..

— Michael Vaughan (@MichaelVaughan) July 31, 2011
But as we know this isn't a blog about cricket. So what is this story doing on a media blog?
Because on 10 Aug, less than 2 weeks from Vaughan's tweet, Hindustan Unilever, marketers of Vaseline in India responded with a set of cheeky ads mocking Vaughan, including one illustrating the numerous uses of Vaseline in India (below), which most certainly excluded the kind Vaughan was alluding to!

HUL's retort was much appreciated in Indian media and advertising circles for both creativity and the reaction time. A media blog celebrated the campaign as the face of a nimble advertising industry, highlighting how ads that used to take months between conceptualization and execution, are now being rolled out in weeks. 
Well, if they thought turning around an ad in 10 days exemplified nimbledom, I wonder what they would make of Oreo's recent superbowl ad, which was turned around in minutes!
Yes, you read it right. Minutes! During the recent Superbowl final there was a blackout for 30-odd mins (Funny, one thought blackouts only happened in the developing world). During this brief window, Oreo released this on twitter
Power out? No problem. pic.twitter.com/dnQ7pOgC

— OREO Cookie (@Oreo) February 4, 2013
The twittersphere went nuts. As on 21 February 13, the tweet/ad had been retweeted 16,000+ times, and favourited 6,000+ times. It became the most talked-about ad of the Superbowl, even though funnily enough, the ad cost zilch. 
As Lyneka Little of the WSJ puts it, "Oreo's instant Twitter ad stood out on a night when 30-second ads on TV cost $3.8 million. It helped demonstrate the power of ingenuity over money, and social media over traditional forms. "
Interestingly enough this wasn't the only real time response to the power outage. Tide responded
We can't get your #blackout, but we can get your stains out. #SuperBowl #TidePower pic.twitter.com/JpQBRvjf

— Tide (@tide) February 4, 2013
and PBS had this
This might be a good time think about alternative programming. #SuperBowlBlackOut #WeHaveDowntonPBS

— PBS (@PBS) February 4, 2013
The Emergence of Real Time Advertising
What these and Oreo's tweets did was to bring into focus what is being termed as Real Time Marketing or Advertising, where an ad is able to reference what is happening around it, and gets across to consumers there and then. WSJ's Lyneka Little says that these are "…likely part of a coming wave of real-time advertising that reacts, like a political campaign war room, to real-time events."
Observers of the Indian media scene are no strangers to Real Time Advertising. Amul's advertising for its eponymous butter brand has been exclusively real time / quasi real time focusing on topical political and cultural issues of resonance. Of course, Amul's advertising is perhaps not as real time or on the fly as say a Oreo's, but it does adhere to similar principles, of referencing something happening around the consumer's life.
What does the rise of Real Time Advertising imply?
Real Time Advertising, brings with itself two powerful trends.
(1) It brings to forefront the power of social media sites such as twitter and facebook, which become the default destinations for Real Time Ads. Twitter in particular seems to have taken the lead on the second screen front, and seems to be reinforcing its advantage through the Bluefin Labs acquisition which will help it beef up its TV analytics piece, the Nielsen partnership to measure social conversations around TV Programming etc.
(2) Real Time Advertising has the potential to upend TV advertising dramatically; after all, if a lot of conversation around a TV series is happening on twitter then would CMOs be not tempted to move some of the expensive TV advertising from the series over to Twitter itself? Added to this is the fact that Real Time Advertising typically costs next to nothing to produce and distribute.  The potential for disruption of the TV advertising business is considerable.
Who owns #Brand? Twitter or you?
If second screen revenue grows dramatically and starts pulling away revenue from the first screen, could TV Networks demand a fee from Twitter for selling advertising against the hashtag that pertains to its programmes? Perhaps what content owners should do is register #brand as a trademark. Netflix should thus register #houseofcards as its trademark, and explore a slice of revenue from ads sold by twitter against this key word. 
Legally my assertion is on weak grounds. As precedent Twitter could cite Google v Louis Vuitton which went in Google's favour. But the key point there was whether there was a risk of confusion on the part of consumers as to the origin of goods or services. That is not what is in play here. Rather it is the assertion that Twitter is willfully leveraging the brand equity built up by my content on the first screen to make money in the second screen, and thus getting a free ride on my content. 
The Rise of the War Rooms 
A related point is that the kind of real time advertising that Oreo and Tide were able to during the Superbowl, happened because these brands were primed to respond to whatever emerged during the Superbowl with a full-fledged Social Media Command Centre / War Room operational while the event was on. 
Oreo's social media command centre was at its digital agency 360i's headquarters in NYC. Creative and servicing staff from it agencies including Wieden + Kennedy, Mediavest, Weber Shandwick and 360i were present throughout. Senior members of the marketing team were either present or were dialed in. Thus when the opportunity presented itself in the form of a blackout, they were able to get out the response within 5 minutes. 
There are some interesting links to brands' temporary and permanent social media command centres (or war rooms). Do take a look at Gatorade's and Coca-Cola's. 
Gatorade's is particularly interesting, as unlike that of Coke or Oreo's which were temporary event-specific coming togethers, this is a permanent establishment. The Gatorade Mission Control Centre is based in the marketing department in its Chicago HQ. It has 6 large monitors that enable Gatorade's marketing team to track the social conversations (twitter, facebook comments, blog posts) around the Gatorade brand on a real-time basis, and importantly respond if they sense any feedback going viral.
Some interesting pics from the Mashable article that I linked to.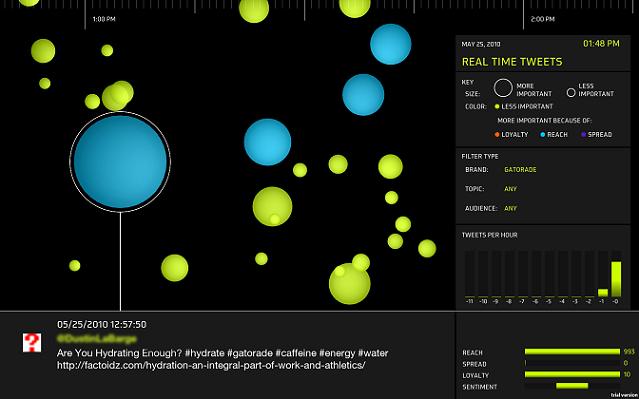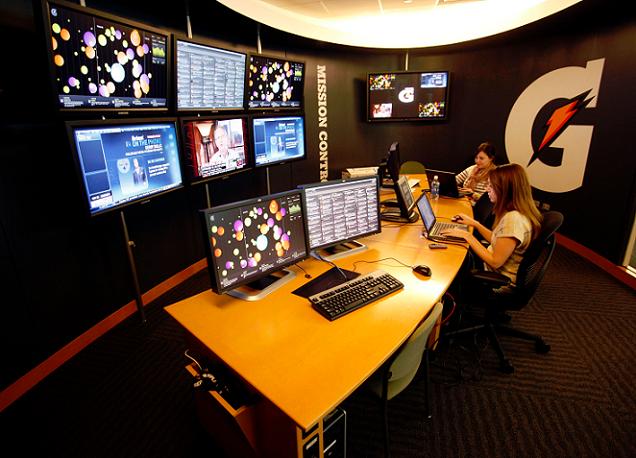 While this looks to be on the cutting edge of marketing in India, Social Media War Rooms are now becoming fairly passe for the larger corporates in the US. In fact there are even companies that will kit out war rooms or run them for you. One such company is Chapel PR whose arm Chapel Social helps set up war rooms for brands.
Here is how a typical war room looks –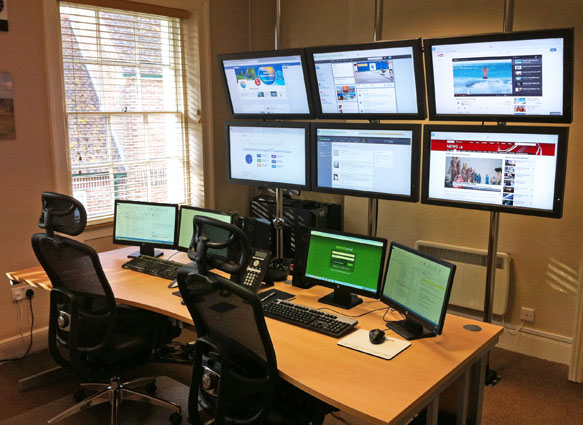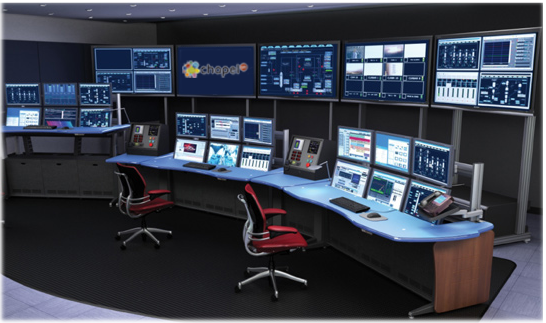 ***
There you have it then – the emerging brave new world of Real Time Advertising with its command centres / war rooms, its focus on speed (and not necessarily spends), and the continuous need to engage with the target consumers and influence the message out there.
India is possibly some time away from these, especially for the bigger FMCG / Packaged Goods brands, given that their focus if anything is aimed more at rural expansion. Nonetheless these trends will hit Indian shores eventually, and when it does it will be an exciting time indeed!