Is there a structured way to look at opportunities in Higher Ed? Say, if a startup wants to enter Higher Ed, how could it systematically identify all possible opportunities and thereby map out all potential business models in this space?
Historically, there were 3 clear spaces or opportunity areas in Higher Ed space. First, there was the University. Initially there was just the non-profit research-led university, which morphed into for-profit models such as University of Phoenix et al. Related to this were 2 other opportunity areas – one was in assisting students in getting into the university of their choice (Kaplan test prep, Wells Fargo student loans etc., all come here), and the second was in helping the university remove all frictions that came in the way of offering services to students (Banner ERP, American Campus Housing etc.)
But where would you put a Chegg or a Coursera or an Enstitute for that matter? They don't fit into any of the three previous opportunity spaces I defined. Clearly our mental model needs to change. One mental model or framework that could help us here is Unbundling – visualizing the university as offering a bundle not just of courses but also of various services, and seeing startups in terms of the specific parts of the bundle they target.
What are the elements of the University bundle? I have covered this in a previous post, where I looked at how Sal Khan, Clayton Christensen etc., visualized the Higher Ed bundle. In that post, I came up with the following 5 services or elements that constitute the university bundle.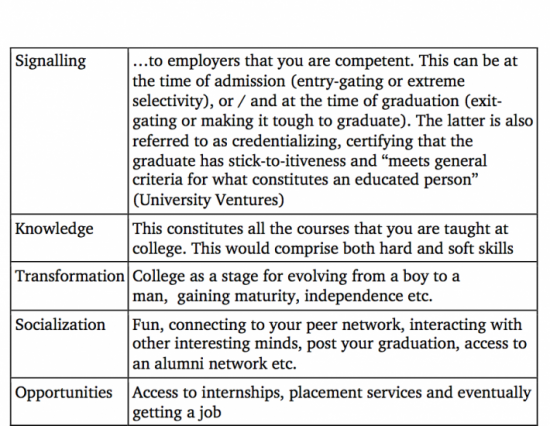 Thanks to technology, socio-economic factors and the changing marketplace, the bundle is now breaking up. More than ever, it is possible for a startup to unbundle a specific service from the above 5, and create an innovative proposition around it. Let us look at these.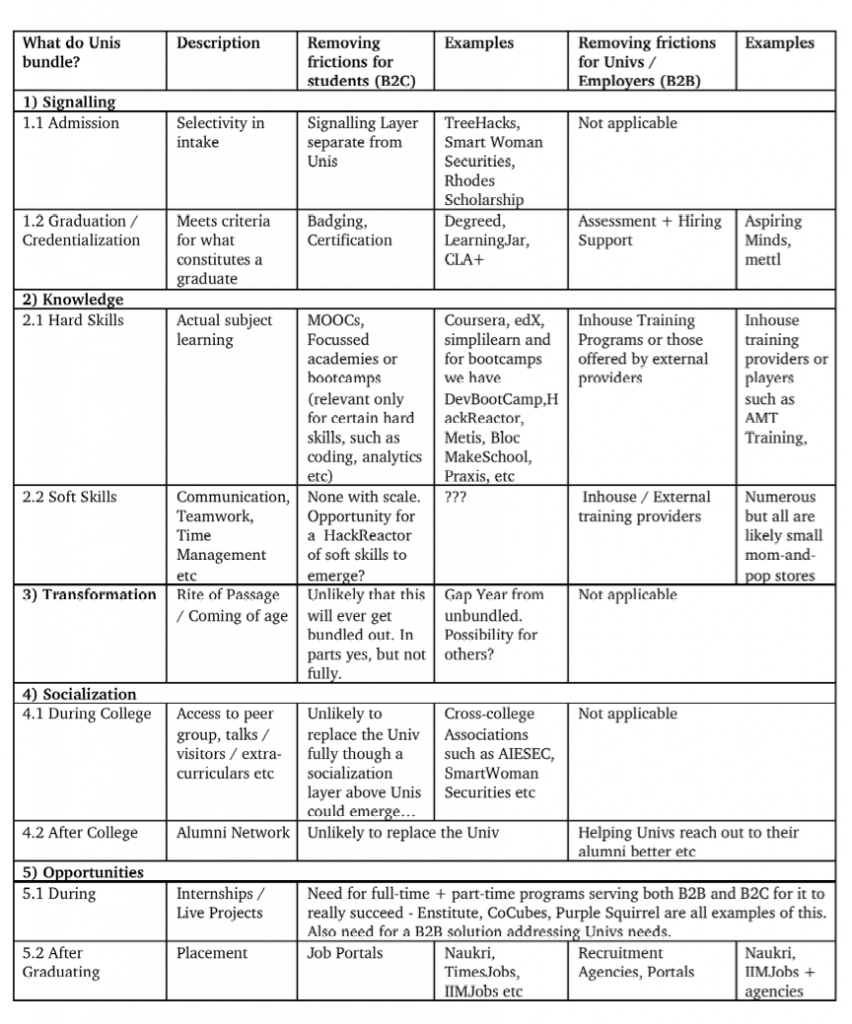 Basis the above, I see some interesting vacant or less-populated spaces a startup (or even a corporate looking to target segments)
Creating a signaling layer distinct from the university. I covered this in a previous post. This signaling layer can also function as an association / networking layer.
Solving the credentialization problem for students – This is potentially a large opportunity in a market like India. About 3.5m students graduate every year. The majority graduate in Arts / Science / Commerce degrees from non-descript colleges and then look at MBA or other degrees to equip themselves with job-relevant skills, signal to employers etc. Presently the types of Aspiring Minds, Mettl are all B2B centric primarily. But there is no B2C player here. And that presents an interesting opportunity.

What if a large indian corporate created an exam like a CLA+ and got employers to accept it? This could then become the equivalent of a GATE for non-engineers.
What if this test was taken about 12months before you graduated, and then you could be told the areas you are weak, and then you took remedial classes there and retook it later?

Creating a Scalable Soft Skills academy – By soft skills, we neednt restrict ourselves to etiquette training but a broader set of skills that complement his subject learning and make him ready for the marketplace. The Confederation of British Industry lists 7 key soft skills – Self-Management, Team-Working, Business & Customer Awareness, Problem-Solving, Communication, Numeracy, Application of IT
Solving Corporate Connect needs of Univs. In the last four years, as many a 42 new private universities have launched in North India alone; and there are more on the anvil. Clearly all of them have to provide internships, corporate project opportunities for their students, necessitating the need for a company that can address these needs. One challenge is that univs dont always pay regularly, but there could be ways to overcome these – ensuring that payout is done prior to internship, asking student to pay and recover from univ etc.